mage2pro/customer-location 1.0.4
The «Customer Location» extension for Magento 2
The «Customer Location» extension for Magento 2 detects a customer location (based on IP address) when he is placing an order and shows the location on the admin order page.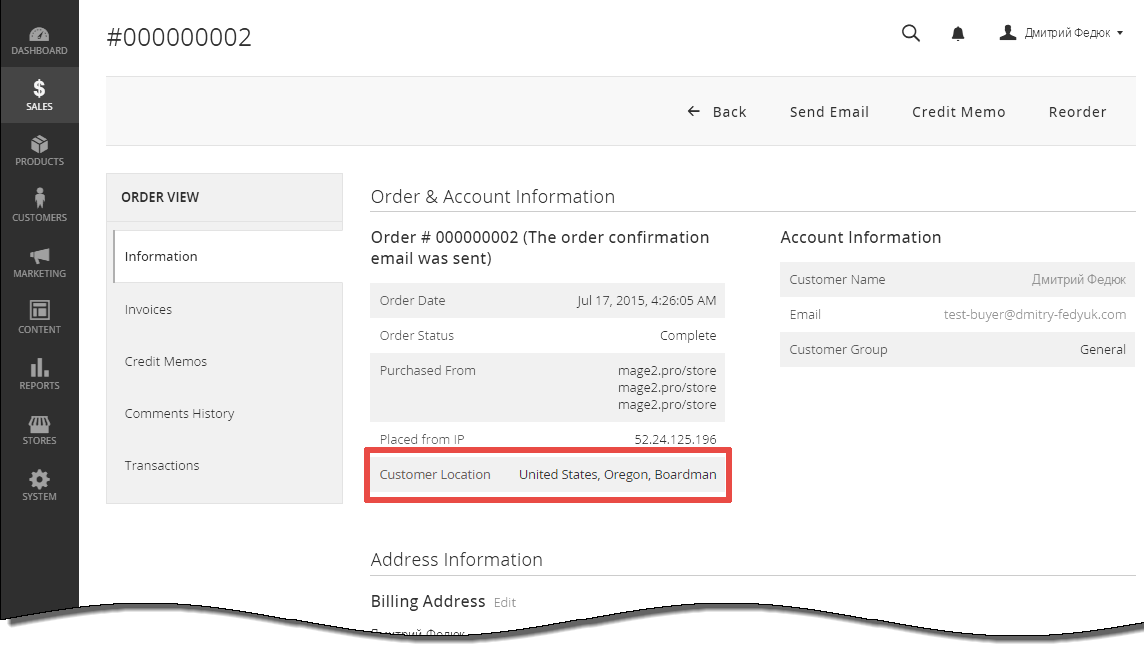 Installation
composer require mage2pro/customer-location:*
bin/magento setup:upgrade
rm -rf pub/static/* && bin/magento setup:static-content:deploy en_US <additional locales, e.g.: de_DE>
rm -rf var/di var/generation generated/code && bin/magento setup:di:compile

If you have problems with these commands, please check the detailed instruction.
Support
Want to be notified about the extension's updates?
Need a new feature?
I provide the customization service for my payment extensions.
Need a payment extension for Magento 2?
See also my integrations between Magento 2 and a third-party business software (ERP, CRM, accounting, inventory, etc.):
See also my integrations between Magento 2 and marketplaces
«Etsy» (focused on handmade or vintage items and supplies, as well as unique factory-manufactured items).
«MercadoLibre» (Argentina, Bolivia, Brazil, Chile, Colombia, Costa Rica, Dominican Republic, Ecuador, Guatemala, Honduras, Mexico, Nicaragua, Panama, Paraguay, Peru, Portugal, Salvador, Uruguay, Venezuela).
«Яндекс.Маркет» (a Russian marketplace, модуль Magento 2 для интеграции с Яндекс.Маркет).
See also my other Magento 2 extensions:
Need a custom payment extension?
I provide a custom payment gateway integration service.